Broadly speaking, Continuing Professional Development (CPD) is the systematic updating and enhancement of skills, knowledge, and competence that takes place throughout the working life and that enables a Member to:
Be more productive
Understand and apply advances in technology
Face changes in career direction
Provide better service to the community
Members of the Institute of Quantity Surveyors, Sri Lanka (Members) shall undertake CPD activities in order to maintain, gain, extend, and update their knowledge and skills in their practice. One of the key functions of CPD is to equip Members with required abilities to perform in their planned career path. CPD should not normally be undertaken on an ad-hoc basis although there may be exceptions as the job dictates. However, it should be planned along with the occupation, employment, practice and / or career path.
For an activity to be qualified as CPD, it should be related to the career as a Quantity Surveyor. For many Quantity Surveyors, CPD activities will include Quantity Surveying (QS) topics as well as sectors that are indirectly connected, including information technology (IT), management, and law, according to how you are engaged in the field of Quantity Surveying. Non-technical topics include management, accounting, law, economics, and foreign languages. If you are undertaking non-QS CPD you should also maintain and update your knowledge in your area(s) of practice. Over a one-year period, it is expected that a substantial proportion of your CPD should be in your area(s) of practice. If the non-QS CPD you are undertaking is of significant content (e.g. a law degree), then you should still continue to undertake some technical CPD in your area(s) of practice and be able to indicate future CPD plans on completion of the non-QS CPD.
Functions that you routinely perform as part of your employment are not normally claimable. For instance, university lecturers cannot claim, under "Presentations and Papers" (see section 7) the lectures they present as part of their employment. On-the-job learning is claimable (see section 5) but you should be able to demonstrate how the activity contributed to your knowledge, skill, or judgement and how it was acquired.
2. CPD Requirement for Membership Status
The CPD requirements for IQSSL Members are stipulated under Rule 12 of the Rules of IQSSL formulated under the Act number 20 of 2007 and CPD compliance is mandatory for maintaining membership. On an ongoing basis, a member shall obtain a minimum of 15 CPD hours through CPD activities during each one-year period of membership (specimen form is provided herewith) subject to stipulated limits of each category of CPD activity, maintain records of CPD activities, and make such records available for audit when required by the IQSSL.
For all claimable activities of CPD, each productive full and continuous one hour of direct engagement or involvement in related work shall comprise one full CPD hour.
3. Categories of CPD Activities
Members may accrue CPD hours in each year of membership up to the limits allowed under each category. Professional development programmes shall consist of any of the following: -:
A

- Formal Education and Training Activities

B

- Informal Learning Activities

C

- Conferences and Meetings

D

- Presentations and Papers

E

- Service Activities

F

- Industry Involvement (per academia)
If you believe you have undertaken any other category of CPD than those listed above but which complies with the general definition in section 1 above, you should make a submission for this to be recognised. In your submission, you should state how you think it has complied with the intent of CPD and explain the content of activity and how it was provided.
A- Formal Education and Training Activities
These activities include formal face-to-face education, distance education, and short courses. They may be external to your employment or conducted in-house but will always include time spent in preparation and/or follow-up, either through lectures and/or self-study and shall always involve some form of assessment.
A special case relates to the undertaking of an entire course work: for a higher degree or post graduate diploma, either by the face-to-face or distance modes, which will cover the CPD requirements for the rolling one-year period containing the course. However, you should continue to record other relevant CPD activities to show that you are continuing to be updated throughout the period of higher education study and beyond when completed.
For formal face-to-face education the time claimed can include actual hours of lectures attended and/or research undertaken for distance learning, the simplest approach is to estimate the equivalent number of hours of formal face-to-face education that would have been involved if this mode had been utilised instead of the distance mode.
Short courses are defined as involving presenters who are external to the workplace. They include courses at tertiary institutions that are not taken for award purposes but still involve some form of assessment. Training activities within the workplace that do not involve some form of assessment are classed as on-the-job learning.

Note: You must provide evidence of the award (e.g. copy of certificate and academic transcript with number of hrs) when your records are requested for audit.
Note: Maximum CPD hours allowable under this heading is 10 in any one year.
B - Informal Learning Activities
There are two different forms of informal learning activities, namely on-the-job learning that takes place because of workplace requirements, and private study where you can exercise complete discretion. On-the-job learning requirements usually arise when you undertake a new project and areas are identified where you need to extend your competency base. It almost always involves another person training you rather than self-paced learning. Exceptions could be learning from structured software-based training. On the other hand, private study is self-paced and is an opportunity for you to direct the way in which your professional career develops. Typical private study activities are the reading of books, journals, manuals, etc and familiarisation with the operation of technological aids, computer programs, equipment, etc.
In both cases any activity claimed must pass the simple test that it contributes to the development of your career as a Quantity Surveyor. Annual maximum limits of 2 hrs and 3 hrs shall apply, respectively, to on-the-job training and private study. In both cases, the maximum number of hours that you can claim over a one-year period of membership is 5 hours, subject to such limits as stated previously. Informal learning activities must be supported by sufficient detail to allow a proper assessment when requested for audit. It is not sufficient just to list books, journals, manuals, standards, software etc. without supporting information. Details of chapters, articles, papers or other relevant information must also be provided so as to give an indication of the new knowledge that was gained.
Note: Maximum amount of CPD hours allowed under this heading is 5 in any one year.
C - Conferences, Seminars and Meetings
Conferences, symposia, seminars, workshops, inspections and meetings run by acknowledged experts can be claimed as CPD activity provided that the content relates to development of your professional career. This includes those events run by groups of professionals (PAQS, RICS, AIQS, Universities and other recognized groups) to provide information relating to the profession of QS or related fields.
The hours claimed should be only those for the formal technical presentations, inspections and meetings that you attended at such events and should not include social or travelling time.
Note: Maximum amount of CPD hours allowed under this heading is limited to 15 in any one year.
D - Presentations and Papers
The preparation and presentation of material for conferences, seminars, symposia and courses can be claimed if these activities contribute to the relevant competencies of Quantity Surveyors and associated professionals.
Material published in journals and conference papers can be claimed as follows:
3 hours per paper for technical papers or research reports for conferences; or
7 hours per paper for papers subject to critical peer review prior to publication
For the preparation of material for courses that are not part of your normal employment (e.g. visiting lecturer from industry) the preparation time can be claimed where it extends your knowledge in your area(s) of practice.
The preparation and presentation of material designed to promote awareness of QS membership of IQS.SL and benefits of registration to potential members and the community can be claimed.
Note: Maximum amount of CPD hours allowed under this heading is limited to 10 in any one year.
E - Service Activities
Service to profession is allowable particularly where it contributes to continuing professional development of others. Within IQS.SL this includes official engagement in Assessment of Professional Competency (APC), Assessment of Technical Competency (ATC) or other qualifying examinations and professional activities of IQSSL including but not limited to being an APC Assessor, Reviewer, member of a course accreditation team, participation in CPD audits, preparation of institute/ candidates for APC, reviewing of Technical Papers prior to publication, and technical aspects of work undertaken on or for Boards and Committees of IQS.SL including special committees. The time involved in mentoring of undergraduate QS's during their time of professional formation can also be included, particularly where it is part of a graduate development program. The hours claimed should be only those for the formal activity, and must not include social or travelling time.
Note: Maximum amount of CPD hours allowed under this heading is limited to 8 in any one year.
F - Industry Involvement (academia only)
Quantity Surveyors employed in academic positions are expected to foster links with industry to the benefit of education in different fields, research and practice in Sri Lanka This requirement also ensures that they are exposed to developments in QS practice outside their university.
Industry involvement will normally be in the form of consulting services. However, where you have close ties with industry, you can include supervision of industry sponsored research.
Supervision of design projects carried out for industry and field trips may also be counted if they have contributed to the above objectives. The CPD hours under this category shall be claimed only by Quantity Surveyors employed in academic positions and shall be limited only for the formal activity, and must not include social or travelling time.
Quantity Surveyors in academic positions must be able to show that they have had at least 10 hours of industry involvement every one year.
Note: Maximum amount of CPD hours allowed under this heading is limited to 10 in any one year.
4. Summary Record of CPD Activities
The table below provides summary record of CPD activities with respective maximum hours expected from a Quantity Surveyor.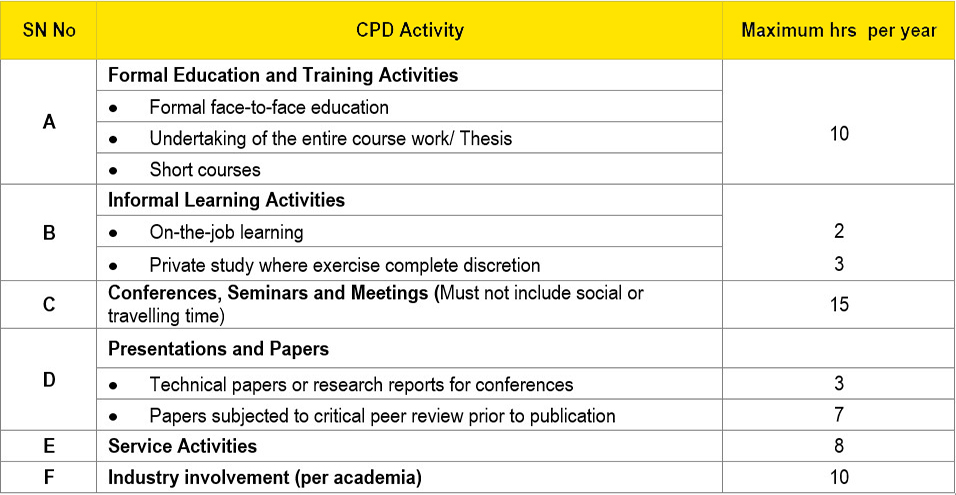 5. Competency Areas to be Covered
Members of the institute should demonstrate the following competency areas on their CPD records in addition to specialised competencies.
AREA 1 - COST MANAGEMENT

1.1

Provide cost advice at pre-feasibility stage and provide input into the development of project brief.

1.2

Advice on costs and benefits of construction project and prepare cost benefit analysis.

1.3

A collection of cost data, cost analysis, establish data storing system and implement updating procedures.

1.4

Establish objectives and parameters of cost planning, prepare and analyze required inputs and prepare cost plan.

1.5

Provide advice to Clients on estimate, cost alternative and cost plan.

1.6

Prepare development budget for the project, coordinate client's cash flows and advice on financing of the project.
AREA 2 - COST ESTIMATION

2.1

Cost data collection, storing and establish updating systems required for estimation.

2.2

Preparation of procedure for estimation and preparation of estimates.

2.3

Advice on tendering including critical evaluation of various documents included in the tender.

2.4

Assess and advice on accuracy of cost estimates, cost audit reporting.

2.5

Establish estimate review system and conduct reviews on estimates.
AREA 3 - CONTRACT ADMINISTRATION

3.1

Interim valuation

3.2

Prepare progressive financial reporting during construction phase and monitoring.

3.3

Variation process up to finalization of variation accounts.

3.4

Initiation of contractual correspondence and interpretation of contract.

3.5

Data collection, prepare contractual cost and time related claims, negotiation and finalization.

3.6

Prepare project implementation and procurement plan.

3.7

Final accounts and reporting.

3.8

Advice on contractual and extra contractual claim.
AREA 4 - COST REPORTING

4.1

Establish cost monitoring procedure including contractor's budget and analysis of pricing for cost value reconciliation and interpretation.

4.2

Turnover, profit and loss forecasting, cash flow forecasting and coordinate with client's cash flow.

4.3

Control and management of sub contract accounts.

4.4

Advice on procurement of resource including Material, Labor and Plants.

4.5

Preparation of insurance claims, presentation, negotiation and finalization.

4.6

Resource analysis and management including resource usage, productive reports, interpretation and reconciliation.
AREA 5 - PROCUREMENT ADVICE

5.1

General advice on tender process considering constructability, delivery system and time limitations.

5.2

Initiate, prepare documents, evaluation criteria and evaluation of pre-qualification process.

5.3

Recommend and agree on All input required for preparation of Bills of Quantities.

5.4

Prepare Bills of Quantities, undertake checking required and prepare necessary addenda.

5.5

Prepare tender documents including compilation and tender action.

5.6

Tender evaluation, negotiation and award.

5.7

Specification writing, preparation of Nominated sub contract.
AREA 6 - CONSTRUCTION TECHNOLOGY AND BUILDING SERVICES

6.1

Acquire knowledge of construction process, technologies, building materials and its suitability to the project climate.

6.2

Acquire knowledge of the principals of the design and the science of construction.

6.3

Acquire knowledge of the principals of construction.

6.4

Interpretation of drawings, specification and other documents.
AREA 7 - SPECIALISED AREAS

7.1

Financial auditing of constriction projects.

7.2

Feasibility studies.

7.3

Life cycle cost analysis.

7.4

Provide value management services.

7.5

Use of computer applications relevant to quantity surveying services.

7.6

Risk management.

7.7

Acquire knowledge on regulations and guidelines related to construction in relation to government and local authorities, statutory bodies and donor-funded projects.
AREA 8 - OTHER AREAS / ACADEMIC ACTIVITIES

8.1

ISO standards in consultancy practice.
List below any special area research, studies or academic activities or other experience not covered by the above areas.
Additional Competency Areas
Tax and Depreciation
Opportunity identification
Environmental regulations
Contracts
Product familiarity training
Strategic planning
Procurement Strategies
Value Management
Cash flow analysis
Project Management
Information technology, automation, and artificial intelligence related developments in construction
Building Information Modelling
Investment strategies
Scheduling
Finance options
Asset Management
Environmental impact cost studies
Risk Management - project, insurance, etc.
General Management - personnel, business regulations and laws, industrial relations
The topics need not be narrowly confined to "quantity surveying". Other knowledge development may also be included.
Download the official IQSSL specimen form for membership renewal associated with CPD records under rule 12.
 Last Updated: August 8, 2019

This page has been viewed 4029 times.